Business
Business
We engage in the transportation of iron ore, coal, wood chips and cars. Generally, supply chains of bulk cargo take steps as the picture below and we participate in the transportation of raw materials(RM) and contribute to the world supply chains.


Shipping business is generally grouped into "Ship owning", "Ship operation" and "Ship management".
We mainly serve "Ship owning" and "Ship management" of bulk cargo as mentioned above.
Moving ahead, we are pleased to introduce our "Ship owning" and "Ship management".
【1】 Owners & Operator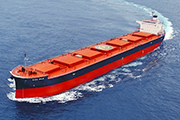 While paying attention to the global economy and current market trends, Mitsubishi Ore Transport purposefully and strategically builds ships with safe navigation capabilities and exceptional loading features and maintains and upgrades its vessels using its consolidated technology based on many years of experience in the industry. By offering our customers reliable and competitive fleet management along with high quality ships, we are continuing to raise our reputation from Customer as well as Charterers.
Our fleet responds to customer requirements with a broad array of vessels, including Capesize Bulk Carriers, Pure Car Carriers, Wood Chip Carriers, Self Unloding Coal Carriers and others, while maintaining focus on Kamsarmax / Panamax bulk carriers. We are actively engaged in transporting automobiles to America and Europe and in providing transport for coal, iron ore, wood chips, grains and other products from regions bearing resources to countries with demand.
We have invested into Capesize bulk carriers for NIPPON STEEL CORPORATION, our major customer since the foundation and we mainly transport coal and iron ore from Australia to NSC's manufacturing plants. We remain dedicated to comprehensive service and safe operations, and we take deep pride in our contributions to society through supply of raw materials for steel manufacturing.
【2】 Ship Management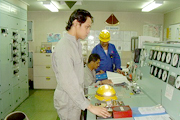 The knowledge Mitsubishi Ore Transport has acquired over many years in the fields of bulk transport and ship management has led to additional business as a provider of ship management services. We manage a self-unloading coal carries that is valuable for our customer and our management technology has also earned a remarkable reputation.