Safety
Safety
Safe navigation
According to our management policy "We pursue the industry's top level of safe navigation and aim to prevent serious marine accidents.", we participate in the supply chain and support human life in the world.
On the other hand, we think it is important to make patient efforts for safe navigation in our office because vessel is so far from our office.
That's why we are working these activities below.
<Personnel development>
【1】 Training of SI (Superintendent)
We carry out planned hiring of marine engineers and make every effort to perform on-site training to cultivate personnel with knowledge and experience. These fleet members will become ship management specialists called Superintendents(SI), forming the link between our company, our customers, and our ships, as part of our drive for "unified ground and see ship management."
【2】 Training of International Crew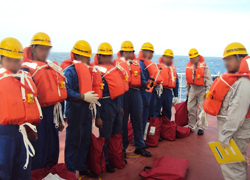 In 2010, we invested in the establishment of the manning company MOT-BARKO MANILA, INC. in Manila. Japanese staff are placed on site, proactively engaging in the training of Filipino crew members before assignments and during leaves. Those skilled crew members, who have received high level training under our policy of crew training that values individuals, carry out safe shipping operations, and contribute to greater shipboard collaboration and morale.
Santa Lucia, a capesize bulker loaded with cargo for Nippon Steel Corporation, and manned by a crew which has undergone our own crew training, received the Best Quality Ship Award for 2010 from the Japan Federation of Pilots' Association.
<Preventive measure for accident>
【1】Monthly Surveillance Check
We sort out and itemize the deficiencies by the surveyor at the port.
Furthermore, we share them to our all fleet monthly to prevent the same deficiencies. In our rules, vessel should report whether the corrective action is needed or not. If needed, we / vessel address them promptly.
【2】Planned Maintenance system
We hope a long-term relationship with our customer and maintain our fleet as a long-term owning basis.
Notably, the proper scheduled maintenance plan is requested for a long-term owning.
We try to realize the proper maintenance by the systematizing of the schedule.
Environment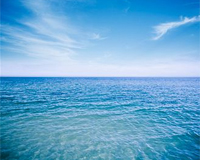 Environmental protection policies that impact ship operations fall into two categories: measures for water pollution and measures for air pollution.
Mitsubishi Ore Transport respects International Convention for the Prevention of Pollution (MARPOL) on these issues and works to preserve the marine environment by properly collecting and treating all shipboard waste, by utilizing diesel engines that meet the latest emissions standards and by other measures.
In addition, we actively support The Agreement of Ballast Water Management (BWM) adopted by the International Marine Organization (IMO) in February 2004.